First of all, you might be wondering. Why do conservation labs conduct photography?
A picture is worth a thousand words:
Photographs are the most descriptive way for conservators to accurately document physical changes made to an object during treatment.
In conservation, producing photographic documentation is a conservation professional's ethical obligation. In conjunction with written documentation, the photographs help to more accurately and efficiently document the examination, scientific investigation, and treatment of special collection materials.
Afterwards, the photography becomes an important part of the treatment record for a rare object and it is permanently archived with the treatment report. This information is saved with the object in hopes of aiding future scholars and conservators in understanding an object's aesthetic, conceptual, or physical historical characteristics.  For more information on conservation treatment documentation, visit the Preservation Lab's digital collection located here: http://digital.libraries.uc.edu/collections/preservation/.
Here at the Preservation Lab, we've always conducted conservation photography but wanted to update our practices and make a dedicated space for shooting. Now that the process is complete, I thought I'd share some of the considerations that were made in putting together a studio space.
First and foremost, the best literature for setting up a photography practice is the American Institute for Conservation's Guide to Digital Photography and Conservation Documentation. This in-depth guide explains everything you need to know about camera sensors, file types, how to use image processing software, as well as different photographic/examination techniques, and so much more. I used this guide extensively throughout my planning process of putting together a studio.
First, identify your photography needs.
What are you taking photographs of?
Are the objects 2D or 3D, and what size?
Here at the Preservation Lab, we photograph only special collection objects before, during, and after treatment depending on the nature and extent of conservation. General circulating treatments are documented in our lab manual, but individual general collection objects are not photographed.
Special collections from both the University of Cincinnati and the Public Library of Cincinnati and Hamilton County consist of 3-dimensional books, flat documents, and prints of varying sizes. Therefore, we knew our studio space would need to adapt to diverse needs.
Next, identify equipment needs.
Once your know what you are taking pictures of, you can start to outline what equipment you need to achieve an efficient photography practice.
 If you have flat objects, you will need to photograph them straight on. Copy stands are the most convenient and safe way of doing this, however you can always photograph them on a whiteboard and hold them in place with magnets.
If you have 3D objects, you will need a tabletop or floor space for extra large objects.
Do you have a camera and tripod?
Will you need to purchase camera software in order to conduct "live view" shooting?
Do you have a computer you can use for image processing?
Do you need to purchase image processing software such as Adobe Bridge, Photoshop with the Camera Raw plug-in or Lightroom
How are you white balancing and labeling photographs? Do you need to purchase a color checker or a digital gray card?
What color backdrop would be best for your collection? White objects stand out best on black backdrops, but dark objects blend in. Gray backgrounds are the most versatile.
Before our new studio space was established there was not a dedicated photography table. Instead, a space on a treatment bench was cleared each time objects were photographed. So, we re-purposed an old drafting table to use as our 3D studio table. The fact that the tabletop angle could be adjusted allowed the table to double as stand to hold large flat materials. To give the flat objects a ledge to sit on while vertically oriented, we asked the UC carpenters to attach a hinged piece of wood to one edge (a trick I learned at Buffalo State College). This hinge flips up into place when the drafting table is angled vertically and flips down when the table is angled horizontally so the ledge doesn't get in the way for photographing 3D objects. This option is a handy alternative to attaching materials to a wall or photographing from above on the floor.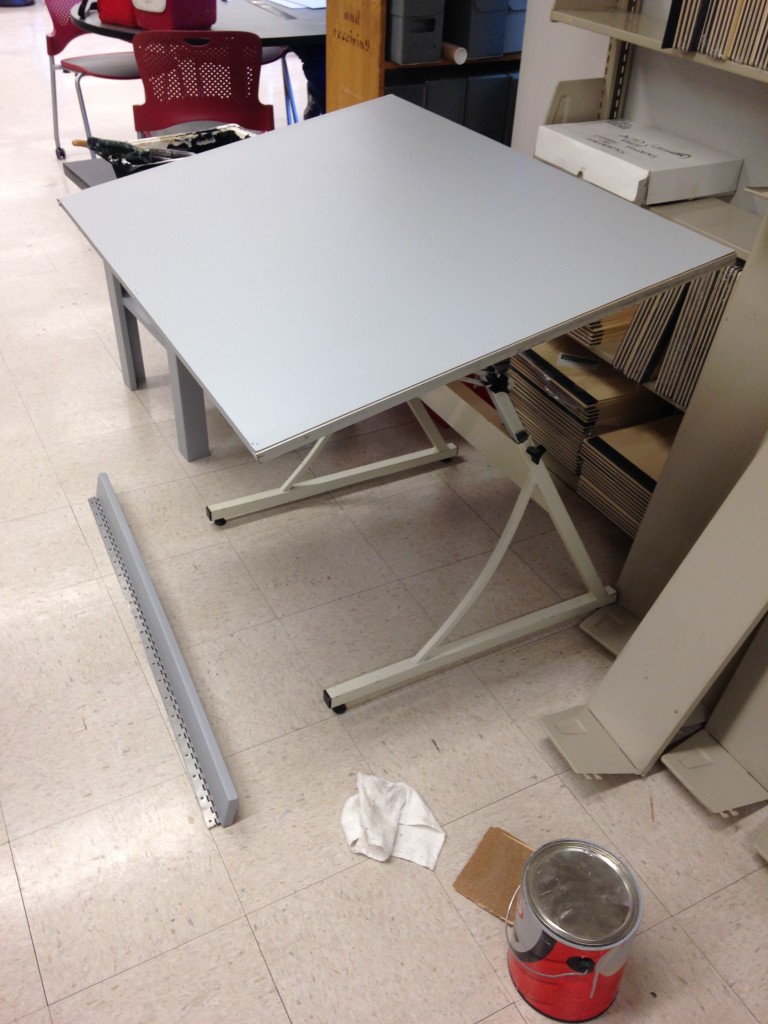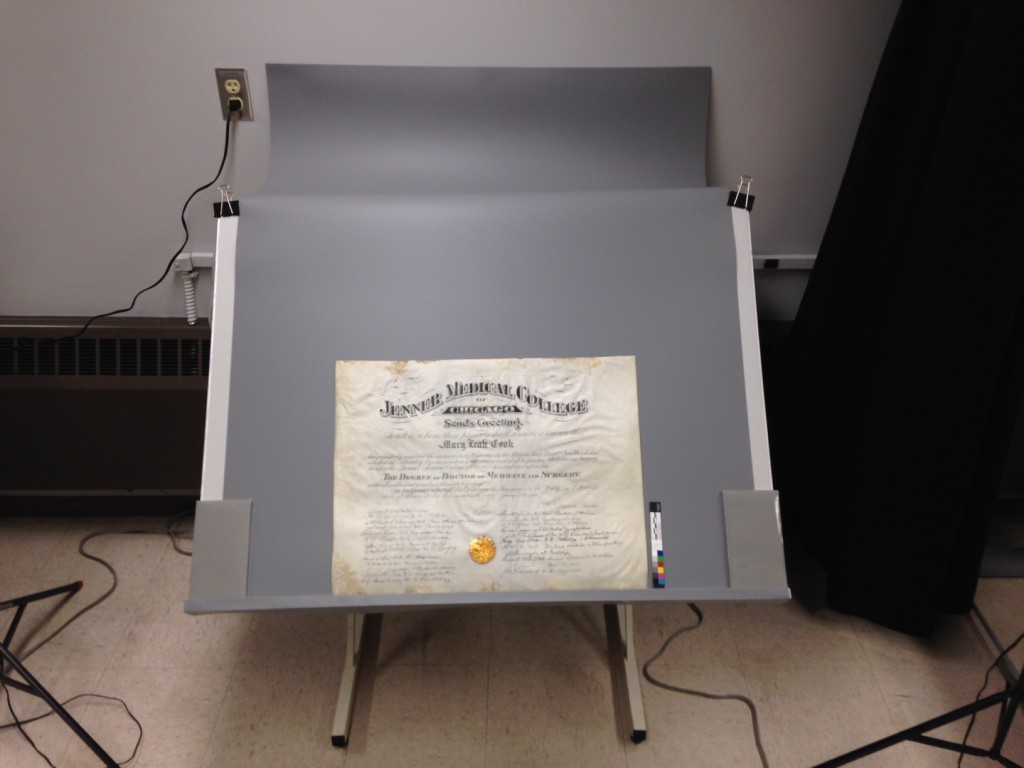 We also already happened to have a small copy stand in the lab. We have found this copy stand is perfect for photographing smaller documents. What we didn't have was a conveniently low table to place the stand on, and we were in need of making a wider base. To solve this, we had a table built by the carpenters and installed the stand with bolts.  In retrospect, constructing a table with a clear top would have been ideal to also turn the copy stand into a light table.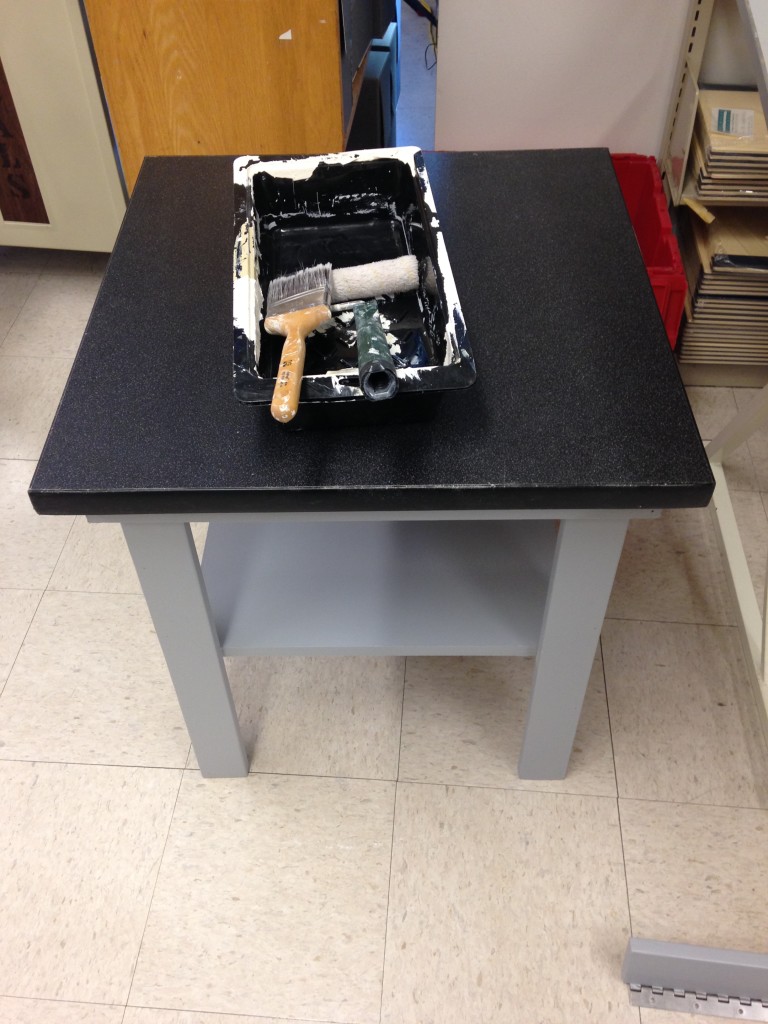 Prior to setting up a designated photo studio, the lab had been documenting treatments using a donated Sony Cybershot 7.2 MP point-and-shoot camera with a 5.75 x 4.31 mm sensor size. While this camera was helpful in describing treatments performed, the resolution and clarity for the point and shoot camera was an impediment for processing images and recording details.
The lab decided we wanted a full frame digital single-lens reflex (DSLR) camera capable of shooting RAW files. After much research, we thought we'd get the best bang for the buck by purchasing a Nikon D610 DSLR Camera Body and a 24-120mm f/4G ED VR Zoom Lens. The D610 is capable of recording images and video, with 24.3 effective megapixels. We could have purchased a camera with an even greater amount of megapixels, but anything past 24 megapixels starts to become excessive if you are not printing large format photographs. Also, while a fixed mm lens captures images with less barrel distortion, we opted for an FX zoom lens to allow greater versatility.
To help with understanding the resolution difference between our old camera and our new Nikon, I found this online resource extremely helpful for making sensor comparisons. Part of the information from this website is outlined in the chart below: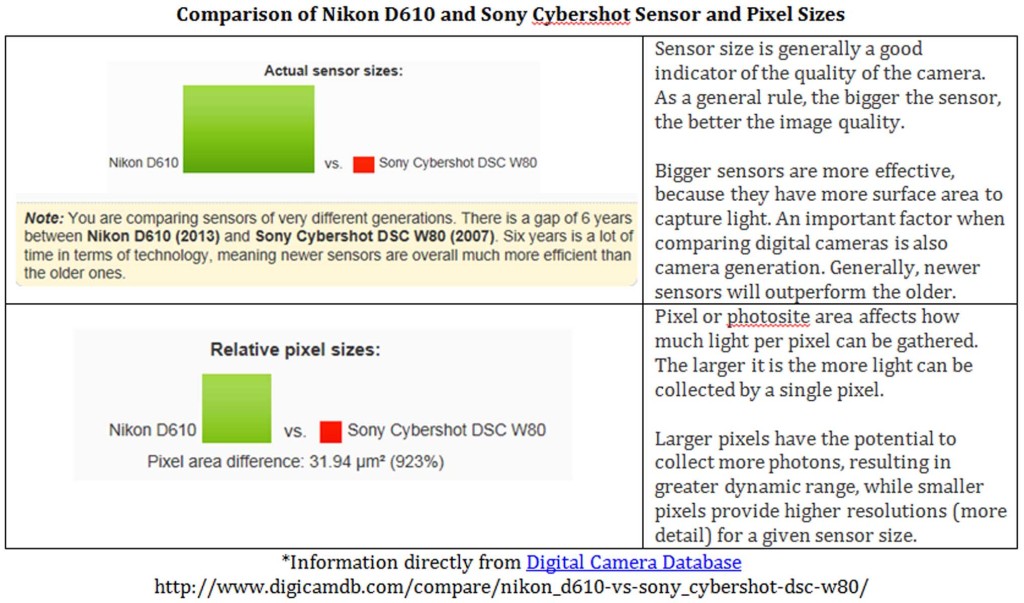 We also decided to update the flow of photography. To increase efficiency we wanted to be able to tether the camera to a computer so we could easily see the images and edit them right away. To do this, we acquired a laptop and devoted it to the studio set-up. We also purchased Camera Control Pro 2, Adobe software, and a 16ft USB cable to tether the camera to the computer for "live view shooting." Live view shooting is when you can see the image you are taking directly on the computer.
Designate a space for a studio
Depending on how big your lab is, you may not be able to dedicate an entire space to photography. Instead, many labs retrofit certain spaces so they can double for other purposes. In our case, we were lucky enough to be able to consolidate some spaces to make room in the back of the lab.
How much room do you need?
Do you have a dark space such as a large closet?
If not, can you make another area work by putting up curtains?
Electrical outlets available?
Will you need to paint it?
The Preservation Lab's first thought was to reorganize our storage closet to use as our studio space. We thought this would be ideal so when we were photographing we could close the door and turn out the lights without disrupting the normal workflow of the lab. However, because our storage area is wedge shaped with piping and duct work throughout, we realized we couldn't utilize the space efficiently and it was not the safest place for collections.
Instead, we identified an area in the rear of the lab where we would have plenty of space. This decision required us to rewire the light switches and install blackout curtains so when the photography was performed, the rest of the lab would not go dark.  Another great aspect of the spot was that it had a strip of electrical outlets along the wall that would be very useful for plugging in lighting equipment. Also, there was a counter in place where we could set up a computer for live-view shooting.
The wall color for a photo studio space is extremely important. To accurately capture an object's colors, you want the wall color to be a neutral color. For example, if your wall color had a slight green hue, the light bouncing off the wall can cast a slight green hue onto the object. This is very unfavorable when trying record the true color of an object, especially a white piece of paper. Neutral colors to choose from are white, black or gray. For an explanation of why gray is the best color for conservation, check out this short video. Purchasing a true gray paint can be tricky. We found a great "Neutral 8" color at B&H.
Other equipment purchases included:
A backup portable hard drive
Digital gray card specifically designed for digital photography, rather than film
Polarizing filter for reducing glare
An extra re-chargeable battery
A gray plastic background. Using a plastic background is great for cleaning up after books with red rot that would otherwise ruin paper backgrounds. (We actually purchased two, one for the copy stand and one for the bench.)
A photodocumentation color target from AIC.
Diffuser socks for covering our lights.
These black out curtains turned out to be perfect for blocking out the light.
A clamp for holding the color checker and label holder, like this one.
Now that we've established a standardized photography procedure we are utilizing our new space!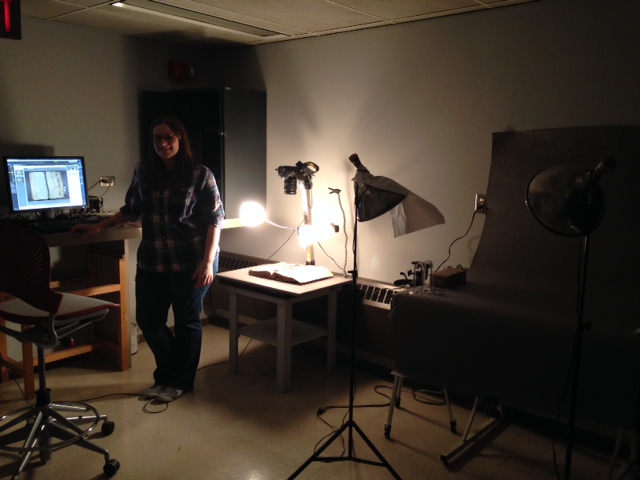 Special thanks to everyone at the Preservation Lab who helped research, purchase equipment, and make this project happen. Especially Jessica Ebert, Holly Prochaska, Hyacinth Tucker, Holbrook Sample, Pat Schmude, Veronica Sorcher and Chris Voynovich, as well as the UC carpenters and my conservation colleagues, Saori K. Lewis and Jiuan-Jiuan Chen. And finally, a big thank you to my Buffalo State College Examination and Documentation Professor, Dan Kushel.
Ashleigh Schieszer (PLCH) — Book and Paper Conservator