This past year, the Preservation Lab was recruited to conserve the Public Library's scrapbook of Althea Hurst.
Scrapbooks are complex library materials.  They are conduits to stories told through the use of collections of ephemeral materials (a.k.a. materials meant to be thrown away and not meant to last), such as newspaper clippings, letters and postcards, and maps.
Due to their collection of content, scrapbooks usually are bursting with problematic preservation issues.  As I wander through the depths of almost any library, I often find a scrapbook lurking within the stacks, silently crying out, pleading for preservation first aid.
Often, fragile pages hold stiff, brittle, or heavy parts that are adhered and folded, frequently found layered and overlapping.  These parts are filled with information and are intended to be handled and experienced; however, the parts become fragile with age and are nearly impossible to touch without causing damage.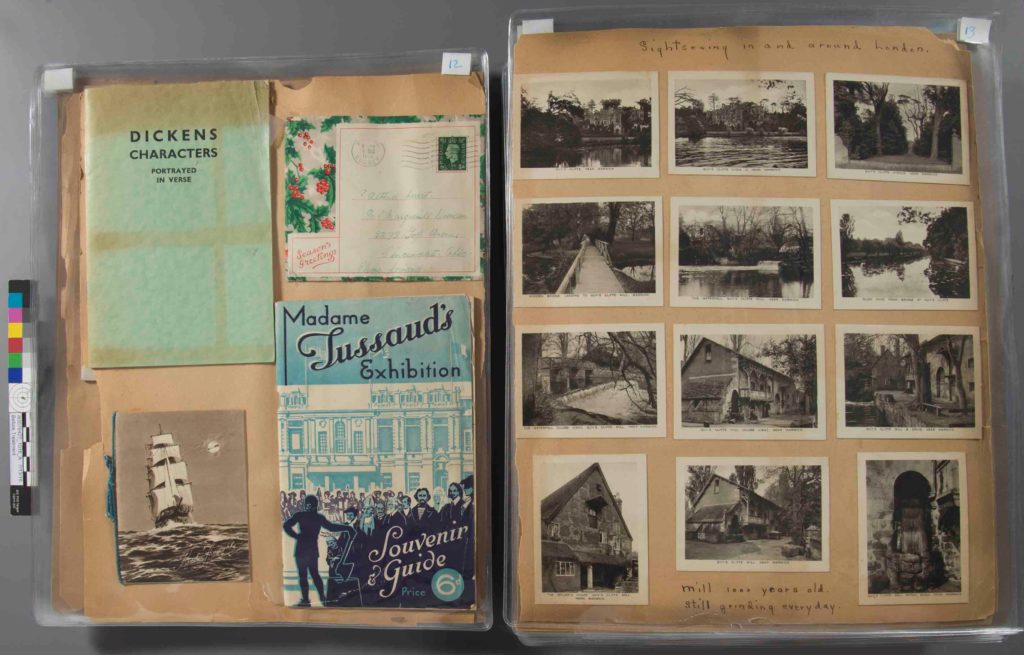 Althea Hurst scrapbook with adhered components, before conservation treatment. 
In most situations, it's often best to digitize an object and protect it by storing it in an enclosure and recommending patrons reference the digital copy rather than handling the physical object.  However, if an object will undoubtedly be handled (and the importance of the object warrants conservation treatment) another solution is to support the pages by encapsulating them within clear polyester film.  Often, the polyester film encapsulations are then bound into an encapsulated page binding to preserve the original format of the scrapbook and to preserve the parts in the author's intended order. However, this course of treatment can be an invasive solution that requires disbinding the original object.
In the case of the Public Library's scrapbook, the scrapbook had been previously reformatted due to its poor condition by a prior owner.  At some point in the object's history, each page and cover had been separated from the binding and stored in non-archival plastic sleeves to protect the pages from breaking.  Rubber bands held the album in two stacks.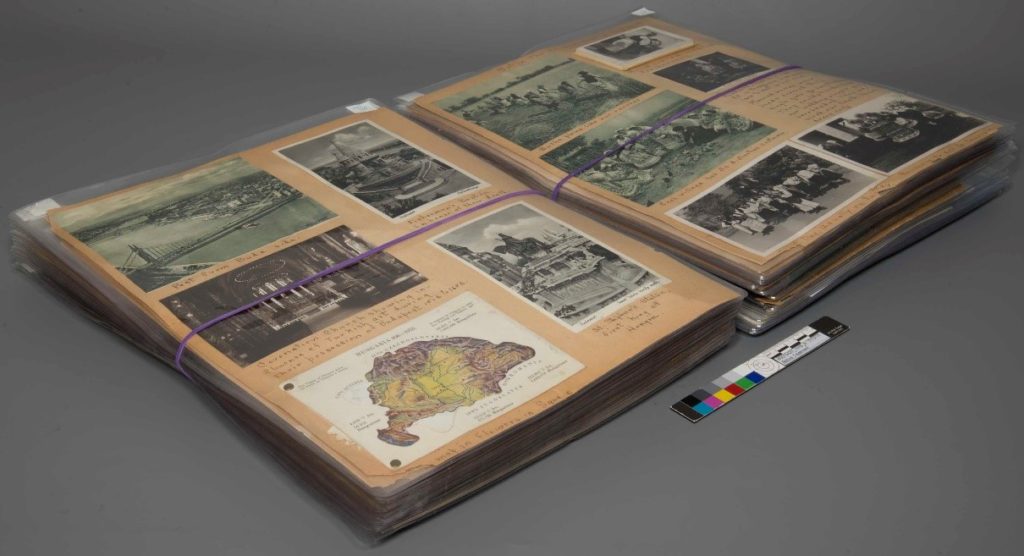 Althea Hurst scrapbook as received, before conservation treatment.
When the library received the object, the pages were in dire need of stabilization before it could be digitized and also needed improved storage.  Because the scrapbook was already disbound into pieces (even the covers were detached) an encapsulated page binding was selected as the most fitting option for the storage of this object.  The local historical importance of the scrapbook warranted full treatment.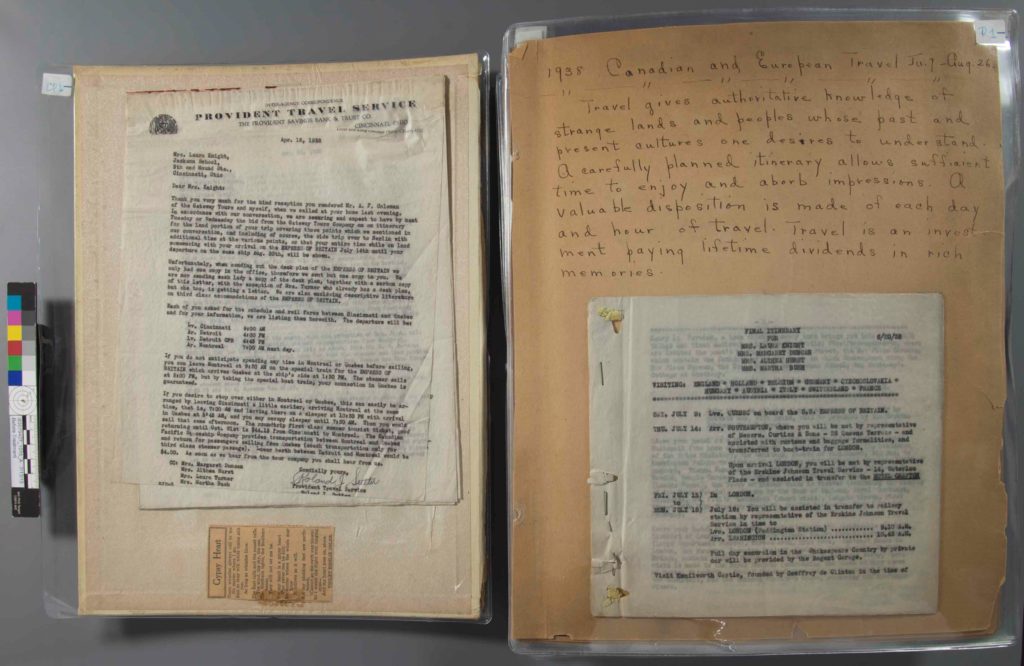 Althea Hurst scrapbook, view of inside upper cover and first page, before treatment.
Being a novice in encapsulated page bindings, I reviewed a few binding structures and wrote about my discoveries here.  I settled on constructing a modified screw-post binding to fit the needs of the Public Library's scrapbook.
Now armed with a direction for constructing the album structure, the next challenge was:
How do I encapsulate a scrapbook that houses a variety of adhered material, such as pamphlets, postcards, letters, maps, and more, and still make the parts accessible?
Encapsulation Techniques
To determine a solution for preserving the arrangement of parts, I researched various methods of welding paper, polyester film, and spun bond sheets of polyester webbing to encapsulated pages.  I compiled the methods into a model binding for reference in preparation for treatment.
Below are a list of experimental solutions for housing and encapsulating the scrapbook's multiple parts.   Many of the techniques were utilized in the final treatment, as you will see in the photographs below.
1. Traditional Encapsulation
This technique was used to fully encapsulate scrapbook pages overall, or to encapsulate removed single sheets that needed extra support
Pages or parts were sandwiched between polyester film and ultrasonically welded on all four sides:

Gaps along the corners were left to encourage air exchange and to prevent buildup of acidic off-gassing of the historic materials.
2. U-sleeve: welded on 3 sides for top edge access
Useful for items that may need to be handled outside of the plastic and are thick or heavy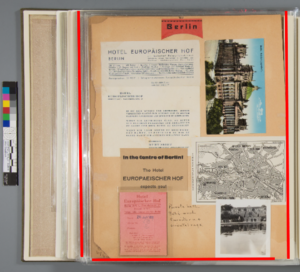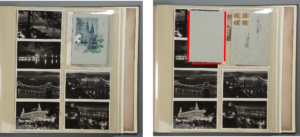 Hinged U-sleeve allows access to the card as well as stability for storing next to the envelope.
3.  Polyester sheets welded on two parallel sides
Could potentially be helpful in the right circumstance for thin items that may need to be handled outside of the plastic. Two access points are helpful for reducing static cling and suction, however, items may accidentally slide out more easily (see next technique for a similar yet preferred method).
4.  L-sleeve: welded along the left side and bottom edge (in the shape of an "L").
Alternative technique to the U-sleeve for storing parts that may require future handling.
An L-sleeve can be welded to one side of an encapsulated page binding with an ultrasonic weld after the L-sleeve is created.
For thicker materials, an additional small weld along the bottom right edge is helpful to prevent materials from sliding out of the sleeve when the page is turned.
5.  Spot welds: heat or ultrasonically welded
Technique used to hold materials in place and prevent them from sliding within an encapsulation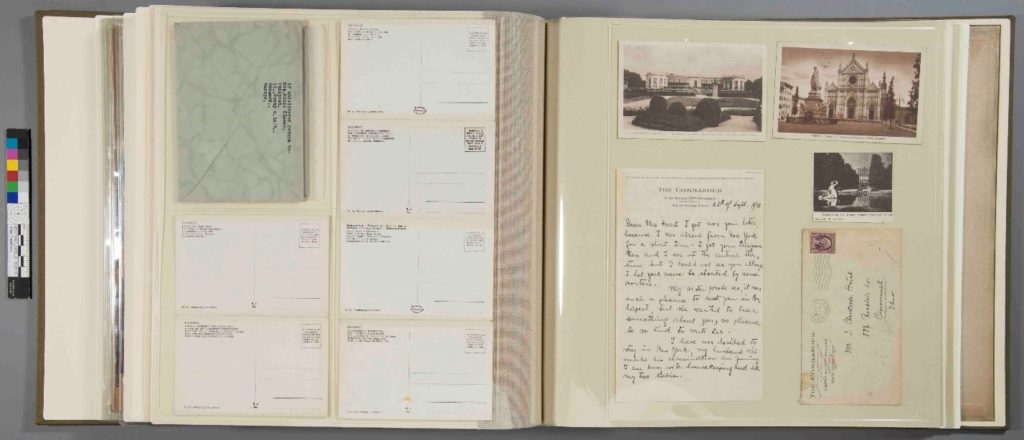 6. Thin overlapping attachments
Overlapping parts that need to be kept in a specific composition can be carefully removed from the page by a conservator and individually encapsulated.  The encapsulated components can then be welded to the upper sheet of the polyester page using a variety of techniques to preserve the original orientation.
Using these techniques allows access to all the components on a page that would otherwise be inaccessible in a traditional encapsulation, and keeps the author's intended composition.
Parts must be oriented and welded to the upper sheet of polyester before creating the finished encapsulated page, i.e. before encapsulating the lower sheet of polyester to the upper sheet.
7.  Hollytex hinge
A strong synthetic hinge (made from spun-bonded polyester) that is welded to the clear polyester sheets with ultrasonic welding.
Useful for easily viewing the front and back of  overlapping parts or loose bits.
Detail of Hinge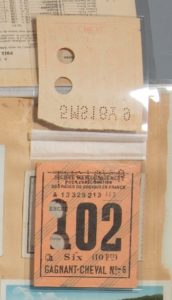 Overlapping Components, Before Treatment: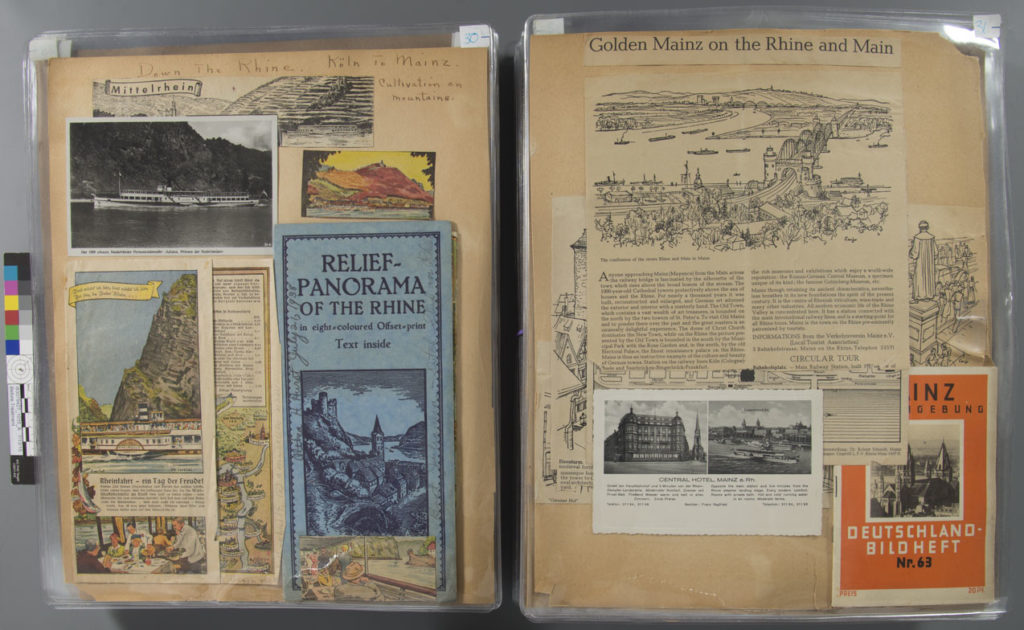 Hinged Overlapping Parts, After Treatment:
8. Paper Hinge
Usu Mino tissue is welded in between two sheets of polyester
The extended Usu Mino hinge can then be brushed with paste and adhered directly to a paper leaf.
Useful in other applications, for example preserving loose components in paper textblocks, such as pressed flowers or handwritten notes.
9. Polyester four flap attachment
For small but thick objects
To secure thin components with multiple parts on top of an encapsulated page while still allowing full access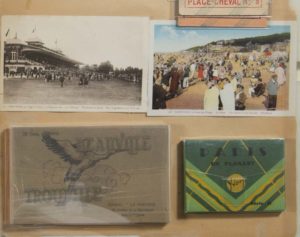 10. Paper spacers
Strips of acid free paper can be placed within an encapsulation to prevent smaller components from moving within larger encapsulated pages.
The paper space holders are visually pleasing so the viewer is not distracted by the page below.
Static holds thinner sheets in place
Thicker textblock leaves may need to be spot welded in-between the document and the paper strip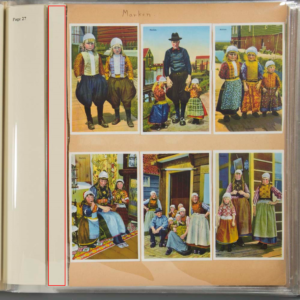 11. Stiff support leaf with cloth hinge
To support heavy page encapsulations AND/OR include heavy components in pockets on a strong page within the binding
Constructed out of 2-ply mat board, PVA, and Canapetta cloth
Before Treatment: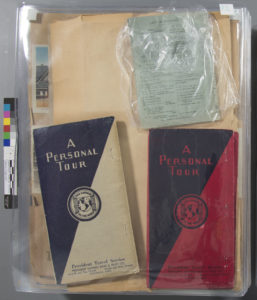 After Treatment: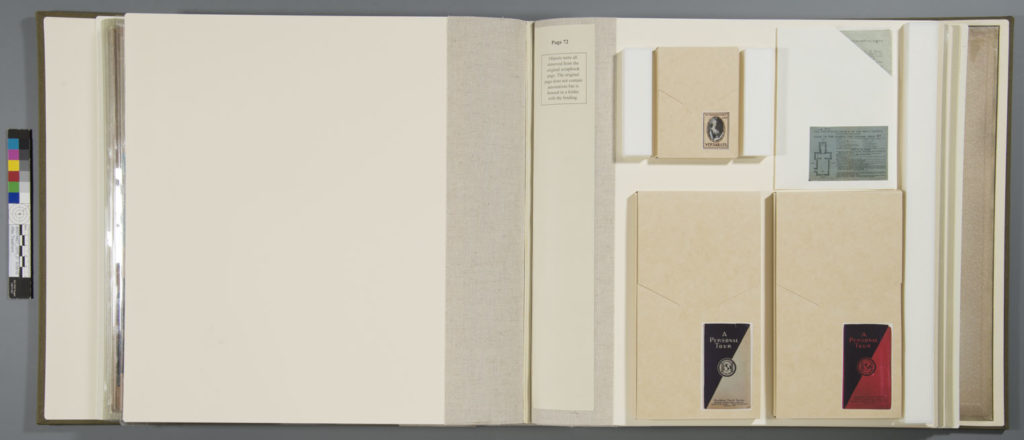 12. Stiff flyleaf to support encapsulated pages when laying open
Constructed out of 4-ply mat board, PVA, and Canapetta cloth
The stiff flyleaf contains a smaller hinge than the interior support leaves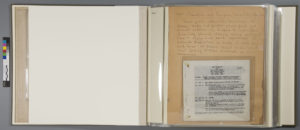 *Bonus Experimental Technique:
13. Welding polyester film to Vivak
Even the cover contained an attached component!
As per a request by the curator, the original cover was incorporated into the new binding with reversible methods.  The original cover was hinged into a sink-mat package that was sandwiched between a cloth covered mat and a sheet of Vivak.
After a bit of experimenting, a polyester L-sleeve was ultrasonically welded to the Vivak "pastedown" so the original arrangement could be preserved
Before Treatment & After Treatment:
A flyleaf of polyester film was hinged onto the "pastedown" to protect the attached component from being abraded by the edges of the textblock leaves: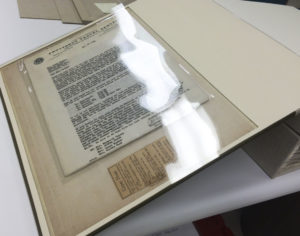 Two volumes, after treatment: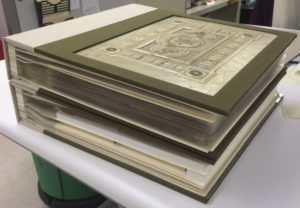 Final challenge:  How to manage the scrapbook's large treatment effectively and efficiently.
To read about our collaborative treatment workflow, please see the next upcoming installment: Polyester Encapsulated Page Binding *Part Three: The Workflow.
Ashleigh Schieszer (PLCH) — Conservator, Conservation Lab Manager
Photographic Documentation – Jessica Ebert (UCL) – Conservation Technician