There's an exciting new Public Library exhibit located in the Popular Library in the Main Library building downtown. It's titled, Tiny Tomes  and includes over 50 small books that are part of the reference library collection. There are a variety of subjects, binding styles, and time periods represented. Topics include sport flip books, lichens & ferns, children's books, and many more!
This past week, the Preservation Lab assisted with preparing the books for display. Once the layout of the show was established and pages were selected for display, I helped strap bindings with soft polyethylene strapping and showed staff how to use various supports made out of Vivak and archival mat board. These supports were made beforehand in our lab by lab technician, Chris Voynovich.  Since we knew the overall size of the books were generally 4 x 6 inches, a variety of general supports were constructed out of lab scraps rather than custom fitting the supports to each book. This greatly expedited the process of making the book cradles.
Out of approximately 40 constructed supports, every single one was put to use!  There were V-shaped supports used to hold books open while lying flat, U-shaped supports to lift up books, triangle shaped supports to act as cradles, and other supports to hold books safely upright.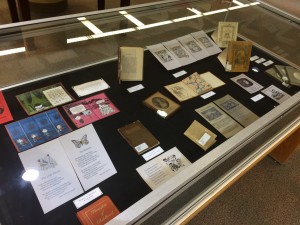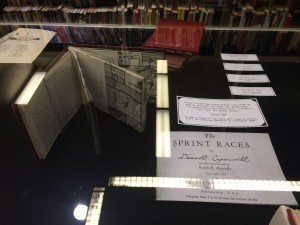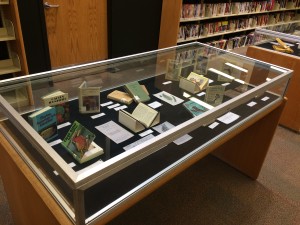 Some books were too fragile to be opened or had more than one page to exhibit. As an alternative to displaying interior pages, some of the books were scanned by Digital Services and surrogates were printed. These images are also available online, located here: http://cdm16998.contentdm.oclc.org/cdm/landingpage/collection/p16998coll52.
The exhibit runs from Jan 18th to March 13st. While you're at Main Library, be sure to check out the Smallest Book on exhibit in the Cincinnati Room, located on the 3rd floor!
Ashleigh Ferguson Schieszer (PLCH) – Book and Paper Conservator