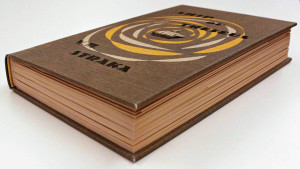 Every once in a while a library receives a new book that needs a little something special. Sometimes it's a pocket to hold an enclosed map or other added material, sometimes it's a special box or enclosure, or sometimes it's an extra page that needs to be tipped in. Recently the Public Library of Cincinnati and Hamilton County received 20 copies of the book, "S" by J.J. Abrams and Doug Dorst. It's unusual and highly visual, filled with things like postcards and news clippings, 22 in all, stuck in at different points as if someone had been reading it and had absent-mindedly left their impromptu bookmark between the pages. None of these ephemeral-seeming pieces are attached in any way. It's a really neat interactive book, in fact I want a copy of my own, but having a book with numerous loose parts is definitely challenging as part of a library collection. The potential for the various pieces, all part of the book's storyline, to be lost or misplaced is huge! In fact there was an outcry across the country as the book arrived and librarians saw the potential for chaos and disaster:
http://www.hollywoodreporter.com/news/jj-abrams-mystery-book-s-654109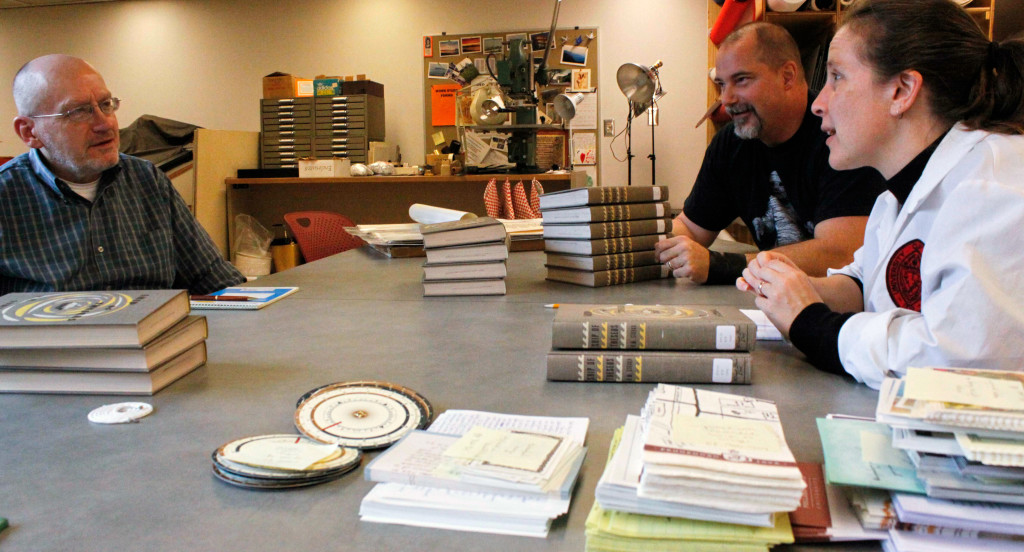 Fortunately when it arrived at the Public Library the Cataloging and Processing Department immediately thought of The Preservation Lab and sent the books to us to see what could be done. We took one look at them and realized this was a task for the team. Five heads are better than one and with Ashleigh, our Conservator, in the lead the conservation techs set to work to come up with a plan. We talked about how the books would be used, whether the materials needed to stay between the pages we found them in and what kinds of materials (text weight paper or cover weight? PVA or mixture?) would be appropriate. Ideas were pitched and built upon. Before the afternoon was done we had a procedure hammered out.
In fact it was pretty straightforward. We used extended hinges (a strip of paper attached to the item) so we could tip the postcards and some of the other items into the book without interfering with the binding.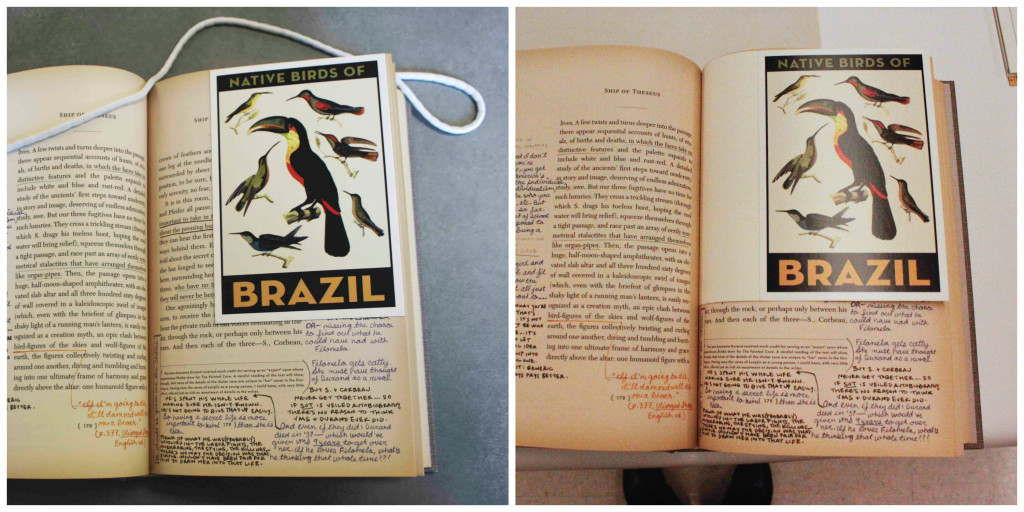 We devised a staggered system of placement so they wouldn't create a bulky spot in, say, the center of the book. A printed paper napkin was too fragile to hinge in so we created a pocket, again with an extended hinge, to keep it in place. A piece that seemed to be some sort of compass was adhered to the inside front cover with double-sided acid-free tape.

There were some multi-page letters and other documents as well. For the most part we tipped the pages together and then tipped each document in with the top at the spine, refolding it so it wouldn't protrude from the text block. Again to avoid making the book too bulky we staggered the placement of these. In one case the letter had text at the top which would be impossible to read if we tipped it together so we found a way to guard the two pieces together and use the guard as a hinge, thereby keeping the pages together and attached to the book but still entirely readable.

We set it up as an assembly line, removing all the loose items and placing like with like in a stack, then creating a checklist with instructions for the attachment of each piece, including templates for any hinges etc. to save time with measuring. Our student workers were each given a component to work on and when they finished installing it in all 20 copies they would check it off on the list and move on to the next one. Batching the work like this saved a great deal of time and before we knew it the books were headed back out to the Public Library, all the pieces securely ensconced in their places between the covers!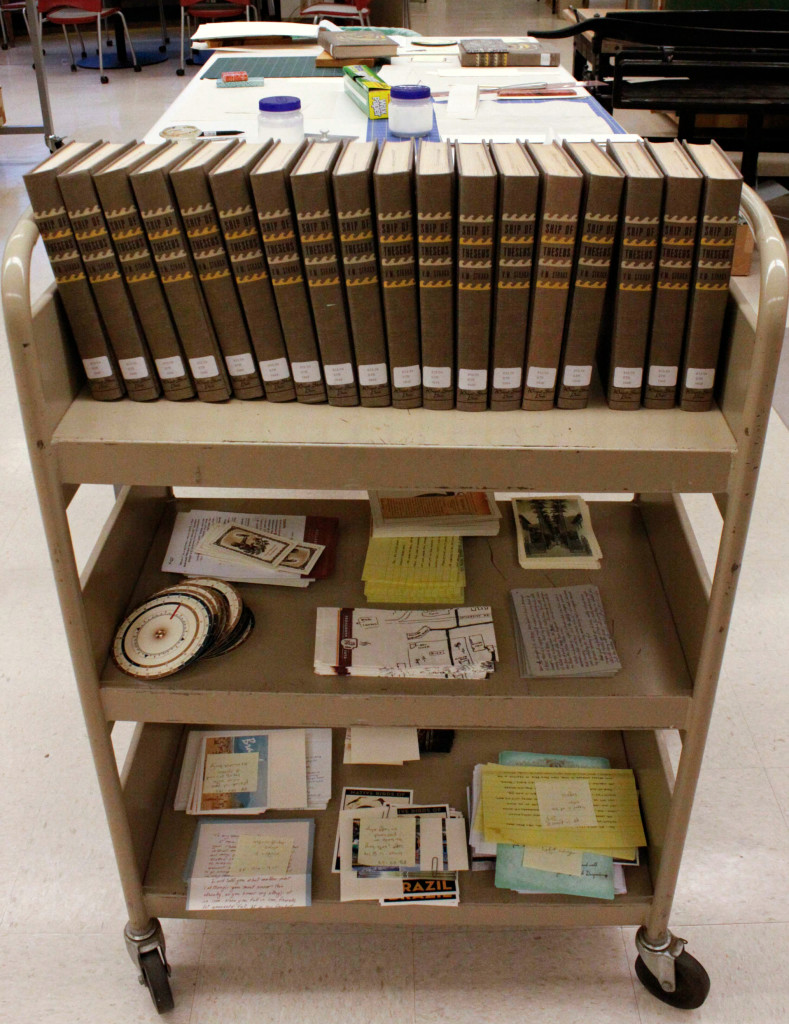 Veronica Sorcher (PLCH) —- Conservation Technician