Recently we received an unusual item from the University of Cincinnati's Winkler Center for the History of the Health Professions:  a prosthetic ear dating to the mid 1950's accompanied by a small photograph and newspaper clipping depicting the patient modeling the false ear.  Fortunately, or unfortunately depending on your point of view, the ear we received in the lab was a primary model used to construct the actual prosthetic, so it would not have been worn regularly by the patient.  I have to admit this is one of the more gruesome items I've come across in a conservation lab.  Not because it's a prosthetic ear, but more so because improper housing and storage conditions led to deterioration which gave the ear a very bumpy almost wart-like surface appearance…and it looks so real…
So what to do now?  After consultation with our generous colleagues at the Cincinnati Art Museum, it was determined that the best course of action was to construct a housing that would allow the object to off-gas over time and hopefully slow its rate of deterioration.  The polymer material used to construct the ear was not easily identifiable therefore any more invasive treatment was deemed too risky.  However, I did remove the pressure sensitive tape and as much adhesive residue as possible from the top label visible above.
The next challenge was to design an enclosure that would protect the object, allow off-gassing, and double as a means of display.  I accomplished this by constructing a vented tray within a secondary tray.  The first tray, which contained the ear, was constructed from microchamber mat board and had two generous-sized slots cut into the base to allow for off-gassing.  The "ear assembly" fit very snugly into this tray negating the need for adhesives.  A second base with spacers served to elevate the tray from the bottom then the entire package was covered with polyester film adhered to the sides of the tray with double-sided tape.
The secondary cloth-covered tray was constructed with a built-in easel back to serve as a means of display.  There is a gap around the border of the mat board tray to facilitate off-gassing.
The small photograph of the wearer was matted and the newspaper clipping was left untouched as it was dry-mounted to its backing board and had handwritten annotations.  Finally, a cloth-covered clamshell box was constructed to house all of the materials together.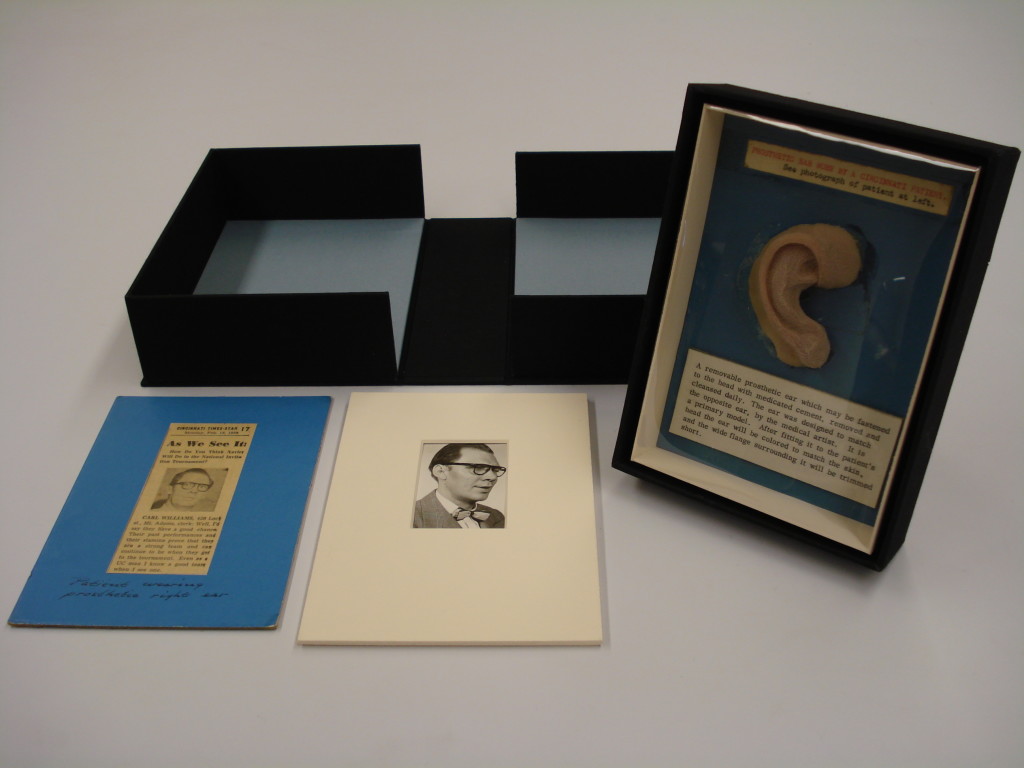 Kathy Lechuga – Conservator (PLCH)